Bamboo mattress pads and toppers are the revolutionary bedclothes that have a lot of health and environmental benefits. They are known to be hypoallergenic and sturdy, so they are great for people with sensitive skin or breathing problems.
The porous nature of the bamboo fiber blended material in these mattress toppers prevent the accumulation of dust mites, fungus, and microbes. Since bamboo mattress pads are usually combined with other materials to have a soft and comfortable texture, this makes them breathable, allowing circulation of air between the mattress and the body. This also regulates the body temperature and enables a sound sleep throughout the night.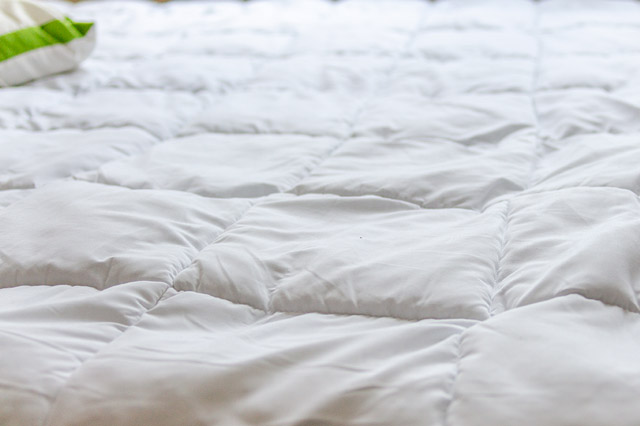 If you are used to mattress toppers and bedclothes made from other materials, here are some of the benefits of bamboo mattress pads that might make you switch to bamboo:
Hypoallergenic
Since the bamboo fiber prevents fungus, bacteria, and allergens to get trapped, they are ideal for people with or without sensitive skin and other allergies. Bamboo mattress pads are antimicrobial and antibacterial. They are usually resistant to dust mites, mold, and infestations which make them ideal for soft bedclothes.
Regulates Temperature
Bamboo fiber being very porous allows proper circulation of air when you sleep over it. It prevents overheating and sweating at night.
Absorbs Moisture
Bamboo fiber wicks away moisture and prevents sweat from sticking on to the bed cloth which can be disturbing while you sleep. The bamboo fiber absorbs moisture and helps evaporated faster because it is porous.
Chemical Free
Chemicals like adhesive, fire retardants, dyes and formaldehyde are commonly used in most mattresses and toppers can be toxic. Bamboo mattress pads and toppers are free from such compounds, which makes them a healthy alternative.
Sturdier Spinal Support
Most bamboo mattress pads and toppers are a combination of memory form which makes them more useful for a well-aligned body positioning when you rest. The mixture is excellent for a pain-free sleep and comfortable full-body support.
Natural Smell
Mattress toppers feel most comfortable when they are clean. Some mattresses retain the smell of chemicals used in manufacturing or deodorizers that people use. Bamboo mattress pads have a natural scent, and they don't retain external odor. The freshness also eliminates the need of using other fragrance to cover up the smell, making them pleasantly relaxing.
Light and Sturdy
Bamboo fibers make the most durable mattress pads as the material is sturdy. Unlike other materials, the lightness and strength of bamboo are implemented on the bed making them comfortable, light and durable.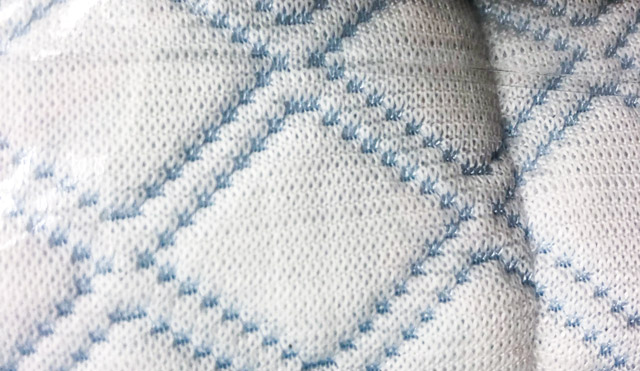 With those benefits, if you would like to check out the full potentials of bamboo mattress pads or toppers, we have picked and listed some of the best bamboo mattress pads in the market.
This selection of bamboo mattress pads and toppers was made by comparing and analyzing the features, size, and value for money.
Best Bamboo Mattress Pads and Toppers
| Pad/Topper Model | Sizes | Our Rating |
| --- | --- | --- |
| ExceptionalSheets SYNCHKG040321 | Twin, Twin XL, Full, Full XL, Queen, Olympic Queen, King, California King | |
| Utopia Bedding FBA_UB0014 | Twin, Twin XL, Full, Queen, King, California King | |
| eLuxurySupply FBA_ExtraThickBamboo-KG | Twin, Twin XL, Full, Queen, King, California King | |
| ExceptionalSheets SYNCHKG126751 | Twin, Twin XL, Full, Queen, King, California King | |
| Mandarin Home Collection MHC-BMBMTTRSSTPPR-K | Twin, Twin XL, Full, Full XL, Queen, Olympic Queen, King | |
| Zen Bamboo ZB-BM-MTRSPD-Q | Queen, King | |
| Cardinal & Crest 4335357590 | Twin, Twin XL, Full, Full XL, Queen, Olympic Queen, King, California King | |
| VirtueValue COMIN18JU064957 | Twin, Full, Queen, King, California King | |
ExceptionalSheets Rayon from Bamboo Mattress Pad with Fitted Skirt
If you are looking for a bamboo mattress topper that will snugly fit on anything mattress between twin size to California king size, this is exceptionally high for a comfortable, no-fuss setup.
This mattress pad can fit up to 18'' deep so it is large enough for even the plush topper luxury beds. This bamboo mattress pad is also suitable for innerspring, memory foam or latex mattresses.
The mattress pad is certified, and laboratory tested to ensure quality, durability, and comfort.
It is made of Revoloft , a fiberfill that resembles goose and duck feathers without the risks of triggering allergies. As it is made of natural bamboo fiber, it prevents extreme hotness and retention of moisture while making you feel fresh, smooth and cozy while you rest.
The plush rayon mixed with bamboo fiber is free of flame retardants, so you are safe from breathing in residual chemicals with makes it a healthy alternative than other mattress toppers.
The deluxe quality mattress pads can easily be folded and stored away without consuming much space when not in use, and the whole pad is only 9.7 pounds light!
While some customers have complaints that it is too thin for its price, the comfort and softness of the material make it worth it.
There are instances where the mattress pad shrinks after a wash, but you can retain its size by washing in cold water and slowly tumble drying. Like all mattress pads, it has to be washed with care but not too often to prevent tear and fuzz.
All in all, it makes sleeping over the mattress much comfortable and waking up fresher, but if you are looking for a thicker one, this might be lesser than your expectation.
Utopia Bedding Waterproof Bamboo Mattress Protector
Also available in multiple sizes, this utopia bedding mattress protector can fit up to 17" deep queen/king mattresses or 15" deep full/twin. This mattress topper is highly recommended for families with kids and people who are sensitive to allergens, asthma and eczema patients and even families with pets.
The bamboo blend makes the construction most durable and light while retaining its softness and comfort.
The mattress protector is lined with elastic fitting, so it easily fits on the mattress and does not require much time to set it up. Since the material is blended with polyester and viscose rayon from bamboo blends, it makes the material highly breathable and provides a cooling effect on the body throughout the night.
Better than a pad, this waterproof mattress protector prevents sweat or fluids from pooling on the mattress.
It does retain some amount of body heat, so if you live in a tropical region, the cooling feature of the material might not be sufficient.
eLuxurySupply Rayon from Bamboo
This mattress pad is also made of Rovolift fiber that feels like real duck and goose feathers. It prevents allergic triggers and makes it safe for people with sensitive skin and breathing problems such as asthma or eczema.
The material is made to be 100% hypoallergenic and durable with 160 thread count and double needle baffle box stitch to ensure security and prevent it from slipping or shifting when stretched over the mattress.
The comfortable material and breathable bamboo fiber are soft to the touch but durable enough to last for many peaceful nights of sleep.
It is 30% more fill and two inches thicker than most other mattress pads of its size and price. The sizes vary from twin, twin xl to full, queen, king and kingCal. Not only does it have a fitted edge, but the material is also soft as clouds and thick enough for a plush sleeping surface.
The extra plush and thick cooling pad are suitable for summer as well as winter as it does not trap moisture, leaving your skin smooth even on humid days. However, the trouble appears when you wash it. The fillings get lumped up, and the outer sheet gets fuzzy and uncomfortable to sleep over.
ExceptionalSheets Pillowtop Mattress Pad with Fitted Skirt
An alternative to the above mattress topper would be from this trusted brand that stands by its name, ExpectionalSheets. The renowned USA made bedding is a perfect king size mattress that promises quality material and quality sleep.
The quiet and fresh smelling plush mattress pad contains 24oz square yard of Revoloft fiberfill which makes it light, yet supportive. It is comfortable enough for people with spinal problems and even skin sensitivity.
With no chemical or allergens added to the natural bamboo fiber which is the main component of the pad, it is safe from allergic reactions or sensitivity. They are available in standard twin, twin xl, full, queen, king, and California king sizes.
The perfect fitting mattress topper is guaranteed to last a minimum of one year and if taken proper care and used consciously, will retain its form and texture for many years.
The mattress topper is suitable for luxurious beds, and a hot or cold climate since it is available in twin size to California king sizes. It keeps the bed cool and comfortable, but the filling easily separates from the mattress. If the manufactures only had taken more caution in the stitching of the topping to make it, it would make the price worth it.
Mandarin Home Collection Ultra Soft Plush Mattress topper
This mattress pad by Mandarin Home collection is of premium quality. With the company's logo embellished all over the mattress, it does look and feel exquisite.
With a blend of soft microfibre and natural rayon from bamboo, it prevents heat from being trapped between the mattress and the body and regulates body temperature.
The soft and crisscross surface designed mattress is machine washable with cold water and at low tumble dry setting which prevents extra expenditure from dry cleaning.
With this mattress pad being machine washable, it beats almost all other beds we have seen so far, but it is still vulnerable to washes.
The Mandarin House mattress pad also guarantees durability even though it is priced slightly lower than other mattresses of its caliber. It is stitched with double needle baffle box which keeps the fills balanced and in place even after a wash.
This is a favorite as it fits most budgets and the quality of the topper stitching is exclusive. This mattress topper is genuinely an added comfort but it is a little disappointing that it doesn't come in California king size and it is limited only from twin size to king size.
Zen Bamboo Ultra Soft Fitted Bamboo Mattress Pad
Considered by many as the most cost-effective queen size mattress pad, the Zen Bamboo fitted mattress pad is ideal for people who like simplicity, durability, and efficiency.
The 4.9 inches mattress pad is just soft enough for a comfortable sleep, and it is not so thick as to change the firmness of the mattress.
It is fitted with an elastic border that allows users the satisfaction of a perfect fit which prevents the pad from sliding and slipping when you move around in your sleep.
Another great benefit of this mattress is that you can machine wash it without being concerned about the tear and filling in the pad.
This mattress pad is ideal for people who tend to sweat a lot when they sleep. The material is cool to touch and does an incredible work of absorbing any moisture, preventing stickiness during the hot seasons so that you can wake up fresh, smooth and well-rested.
It is mostly polyester and only 35% bamboo, so it is not as hypoallergic or chemical free, but to be fair, not many products live up to their claim, so that is excusable as it does perform its purpose. Sadly, they are available only in Queen and King sizes.
Cardinal & Crest Bamboo Pillow Top Mattress Pad
If you are looking for an extra plush queen-sized mattress topper, Cardinal and Crest did an exceptional job with this bamboo mattress pad.
Not only is the material made of soft bamboo-rayon and comfortable on the skin, but it is also made to snugly hold mattresses that are 18'' thick so that there are no loose hanging on the sides of the bed. It fits perfectly so when you shift while sleeping the topper does not slide off the mattress and create an uncomfortable sleeping surface.
Since it is made of bamboo-based fiber, it is a healthier alternative for people sensitive to sound, smell or even skin allergies.
The material is a great temperature regulator composed to provide a peaceful and relaxing sleep
The cluster fiber fill traps are well designed to prevent the fillings from clumping up or falling out when used for long duration. They are available in double twin, full, queen and king size which makes them very convenient. It is a popular choice of others who have used it as well.
VirtueValue Bamboo Mattress Pad
Lastly, the best-priced large 5 inches deep mattress pad we picked is from VirtueValue. Like other products, this mattress pad is also made of bamboo's rayon cover filled with down alternative RevoLoft Fiber to resemble the feel of real duck & goose feather, which makes it healthy, durable and extremely comfortable on the skin.
The ultra soft cover is made to keep allergens and stains away from your mattress while letting you sleep like a baby.
The premium quality is guaranteed for comfort and durability while keeping a healthy flow of air between the body and the mattress to prevent trapping moisture, allergens, and bacteria.
The elastic band lining on the corners serve as a convenient feature to spread across the bed in no time, keeping it smooth and tight throughout the night.
The honeycomb baffle design keeps the filling intact even if it is washed or used regularly, making it more durable than other brands. So if you like to clean it often, this mattress pad can withstand regular washes with cold water and low setting dry tumble. It is however not fully waterproof as you have to be careful not to spill anything greasy or stain them.