Choosing a mattress is one of the most important decisions you'll make for any home. We spend about one-third of our lives on our mattress, so it's important to find a mattress that's comfortable and meets your personal needs.
Memory foam or spring?
The first, and possibly biggest, decision you'll have to make is what type of mattress you want. The two most popular kinds of mattresses are memory foam and spring mattresses.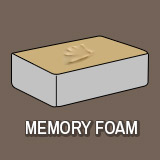 Memory foam mattresses are made of a special kind of polyurethane foam. The foam absorbs impact, so when you lay on it you sink into the mattress. Many people prefer memory foam over spring mattresses because of the way memory foam cushions the body. With a memory foam mattress, you alleviate pressure points on your body. For many people, this means waking up without pain or soreness. Memory foam is a great choice for people who suffer from chronic pain, especially back pain.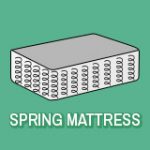 Spring mattresses are the traditional mattress type. They're made of two layers of soft cushion material with tempered steel coils in between. Spring mattresses have more give than a memory foam mattress, and when you move around they literally spring up and down. Spring mattresses come in a wide variety of options, many of which are less expensive than memory foam mattresses.
Size
Think about the amount of space in your bedroom as well as the amount of room you need when you sleep. You want a mattress that will fit nicely in your bedroom, but you also want to have as much room as possible so you don't feel cramped at night.
There are a few standard size choices for mattresses. A twin size mattress is usually best for children, and is the smallest size. A full size mattress is ideal for adults sleeping alone and provides plenty of room for one person to move around, but can be too small for many couples. A queen size mattress is a popular choice for couples or for single adults who like to have a lot of extra space. King size mattresses are typically the largest mattress you'll find. A king size mattress is the size of two twin mattresses pushed together and provides plenty of room for any couple to sleep comfortably.
Firmness
Everyone has their own personal preference when it comes to the firmness of their mattress. Some people prefer a soft mattress that they can sink into, while others like the support that a firmer mattress provides. If you suffer from back pain, many people will insist that a firm mattress is the way to go. This can be true, as a firm mattress supports your back while you sleep. However, try out several mattresses and see what feels best for you.
If you're purchasing a memory foam mattress, you may find you have fewer options when it comes to the firmness of your mattress. This is because memory foam allows you to sink into the mattress, so it doesn't feel as firm. However, it still provides excellent support for people with back pain. If you still want a firm mattress, but love the feel of memory foam, try a gel memory foam mattress. Gel memory foam mattresses are made of memory foam combined with a special gel that gives even more support and creates a firmer mattress.
For spring mattresses, firmness is affected by several factors. First, consider the coil count. This number tells you how many steel coils are inside your mattress. A higher coil count means a firmer mattress. Pay attention to the material used in the cushion on top of the mattress, too. Some materials are soft and fluffy, while others are designed for support and firmness.
Price
While all the above factors are important when choosing a mattress, for many people price is the deciding factor. Keep in mind when budgeting for a mattress that a good mattress will last 8-10 years. If you go for a cheaper mattress now, you may find yourself replacing it sooner and spending more money in the long run. Although used mattresses are available in second-hand stores or online, avoid these. Not only do used mattresses have all kinds of bacteria, they are already worn and won't last long.
Certain types of mattresses will cost more than others. Memory foam mattresses can be expensive. Gel memory foam is wonderful for people with back pain, but it's also very expensive. Spring mattresses are usually cheaper, but certain spring mattresses can cost quite a bit, too.
If the mattress you're looking at seems expensive, try to figure out why. There are many reasons one mattress can cost more than another. It's worth it to spend more money on a better mattress. You'll get additional years of use out of your mattress, and you'll sleep better.